Since at the moment I'm on a budget, the easiest way to get some sound is gainclone amps. One of the cheapest and quickest to build would be TDA1554. Its cheap (3-4$, or 12 LT in Lithuania) and requires very few external components.
For the amp you will need:
PCB
Chip (TDA1554)
Some electrolytic capacitors - 2200uf, 47uf, 100uf, 10uf.
Ceramic capacitor - 0.1uf
Resistor - 39kohm
Potentiometer - stereo logarithmic if you want to have sound control on the amp.
Heres the tadasheet for TDA1554:
http://www.datasheetcatalog.org/datasheet/philips/TDA1554Q_CNV_2.pdf
Simple schematic (taken from datasheet)
Heres the gif showing the PCB layout: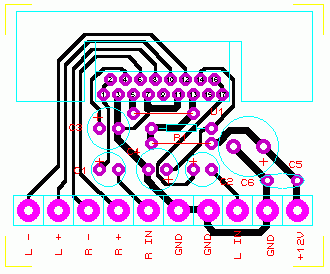 I won't be making it during weekend, but i should be able to make it Monday or Tuesday. Well, good luck to everyone!